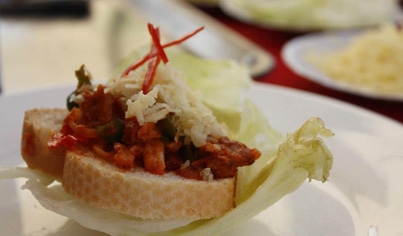 Who's the CHAMP? We are! The year 2012 booms the talents of the students and advisers of BS Hotel and Restaurant Management Students and BS Hospitality Management as they participated in the different hoteliers and culinary challenges. The Culinarinan, Hotelier and Artisan of Mariners' Polytechinic (CHAMP), headed by Ms. Jan Rhea Grageda, Ms. Venafe Rebancos, and Ms. Maria Jane Chan, is the official organization of the HM/HRM students who proudly represent our Alma Mater in whenever they join such events. MPCF-Legazpi indeed are blessed to have these young, talented people as they always bag the awards.
December 17 2012, during Dish Is Eat in the Karangahan 2012 in celebration of the Albay Green Christmas and part of Culinaria Albay, MPCF bags top awards, with of course, the very talented HRM/HM students including:
Jessa DC. Bondoc - Fruit and Vegetable Carving (Champion)
Vanezza B. Armero - Latte Art (Champion)
Daniel Rico A. Rocimo - Cooking Showdown (Champion)
Norjun P. Barro - Flair Bartending (Champion)
Leyanne V. Bertumen - Cupcake Decorating (1st Runner Up)
Laramie O. Florin - Plated Dessert (1st Runner Up)
Jennylyn Layud (Table Skirting)
Chralon Francis Prianes (Floral Centerpiece Making)
November 16, 2012, Vanezza Armero, one of the pride of HRM Deparment, bags 3rd prize during the TESDA Regional Skills COmpetition under category Restaurant Service, which was one the highlight of the event. The event includes other skills showcase such as on graphics design, web development, etc. This was the first time our school joined such event and we are truly proud of garnering a win.
Last October 12, 2012, CHAMP represented MPCF to demonstrate their skills on the Bicol Food Expo held at Landco Square Gaisano Mall, as part of the JCI National Tourism Congress. They proudly showcase their talents in culinary arts, fruit carving, and bartending. The participants include Norjun Barro, Ms. Jan Rhea Grageda, and Ms. Yeng Nocedo.
Bicol Food Expo 2012 shots:
| | |
| --- | --- |
| | Norjun Barro showing off his flairtending skills to the crowd |
| | |
| --- | --- |
| | Culinarians Ms. Nocedo and Ms. Bertumen with their special sandwich. |
| | |
| --- | --- |
| | CHAMP Adviser Jan Rhea Grageda with her artistic styles in fruit carving |

Who's who in the CHAMPs? These are the events and the HRM/HM students who currently participated in culinary and hotelier contests:
| | |
| --- | --- |
| | |
| | The Champions during the "Hoteliers Challenge: A Regional Inter-School Skills Competition" held October 5, 2012 in Bicol College Gymnasium , Daraga, Albay |
| | |
| --- | --- |
| | |
| | The Wellington is ours! CHAMPS during the Pili Kulinarya Roadshow at Kanzo Hall, August 20, 2012, with their winning dish - Chicken Pili Pulp Wellington. (L-R Angelica Roquid, Daniel Rico Rocimo, Mark Joseph Vibar, Zedrick Jesalva) |
| | |
| --- | --- |
| | |
| | Mouth Watering Choco-Bayokbok which won the HRM Students 1st runner-up during the Cagsawa Festival Lada Cooking Fest |
| | | |
| --- | --- | --- |
| L-R) Professional Category in Culinary Competition Gold Medalists Ma'am Venafe Rebancos, Miss Geena Victoria Mejillano and Ma'am Jan-Rhea Grageda | (L-R) Students Category in Culinary Competition Silver Medalists Francis General, Joseph Regedor, and Rosmar Malayo | (L-R) Flairtending Silver Medalist Joy Trinanes, Coach Sir Rikki Esquivel, and Cocktail Mixing Gold Medalist Michael August Adrao |
| | |
| --- | --- |
| | MPCF-LC took home top medals in the first Bicol culinary festival held at the Oriental Hotel in Legazpi last Dec. 19, 2011. |

These are just some of the achievements of the CHAMP. Their achievements mark MPCF-Legazpi as one of the best schools providng the best technical skills on bartending, culinary arts, hoteliers and artisans. Keep uplifting the Marinian spirits with your bag of honors! Kudos Marineros!

October 18, 2012
Credits to Gov. Jose Salceda for posting the photos at Facebook and to Mr. Drew Zuñiga for taking the shots.