TASK FORCE COVID - 19 ANNOUNCEMENT!
For all Enrolled unvaccinated students, for the 1st semester A.Y. 2021 – 2022, who are 18 years old and above. Kindly signify your intention for priority listing, during the onsite student vaccination, on November 19, 2021 at Mariners Legazpi City Annex campus.
Deadline for Registration is November 17, 2021.
Available Vaccines: MODERNA and ASTRAZENECA
note: Choosing of vaccine brand is highly discouraged
For those interested; please FILL OUT the attached
PRE-REGISTRATION FORM.
https://bit.ly/OplanMarinersLegazpiResBakuna
MARINERS' LEGAZPI STRONGLY ENCOURAGES EVERYONE ESPECIALLY THE GRADUATING STUDENTS TO AVAIL OF THE COVID-19 VACCINATION IN PREPARATION FOR THE LIMITED FACE TO FACE CLASSES.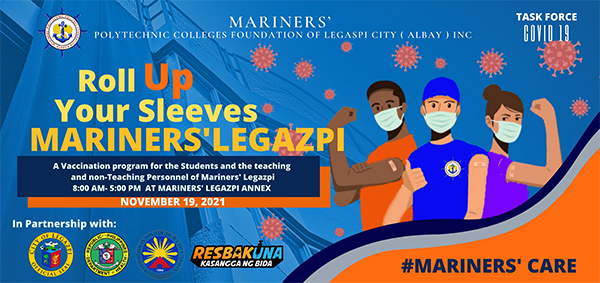 Mariners' Legazpi City has 6 New Licensed Customs Brokers
Out of the 17 Bachelor Science in Customs Administration graduates of Mariners' Polytechnic Colleges Foundation Legazpi City, six successfully passed the recently concluded Licensure Examination for Customs Brokers, held last November 3 – 4, 2021. The result accounts for 35.29% passing rate for Mariners' Legazpi City, for this year's licensure examination.
Considering the difficulties brought by the pandemic, especially to the examinees, the result remains a welcome achievement for the passers as well as for the whole institution, which still ranked ahead among other schools offering the same program in the Bicol Region. For this, the whole Mariners' Community extends its congratulations to the new Licensed Customs Brokers, two of whom graduated in the year 2020, another two in 2019, while the remaining two belonged to Batches 2014 and 2018 respectively.
In a virtual meeting, the President – Ms. Merle Jimenez San Pedro extended her congratulations and commendation to the faculty members and staff, especially to the Customs Administration Department under Ms. Rocel Laynesa, the Program Chair, for the said another achievement.
Congratulations to our new Customs Brokers!
1. Jim Louis V. Aquino,LCB - Batch 2020
2. Christian L. Armario, LCB - Batch 2019
3. Nicole Kenneth B. Bogñalbal,LCB - Batch 2019
4. Hanelyn L. Clavecilla,LCB - Batch 2014
5. Florence S. Fruelda,LCB - Batch 2018
6. Jeffred M. Obtina,LCB - Batch 2020
#marinersjobsfitlifeready

Mariner's Legazpi Gears Up for Opening of Classes with FACDEV
Part of the preparation for the opening of classes for the 1st Semester AY: 2021 - 2022, the Academics Department under the Vice President for Academic Affairs, Dr. Milagros Esparrago kick started the regular Faculty Development Seminar, or FacDev in the morning of last Saturday – September 25, 2021. The one – day activity was completed by a second half-day session held in the afternoon of September 28, 2021, with a video presentation of Dr. Cynthia Bautista as the main resource person, who is currently the Vice President for Academic Affairs of the University of the Philippines, Diliman, Quezon City.
The presentation focused on Paradigm Shift in Education, Globalization, and Internalization of Education, which highlighted the contemporary trends in the academe. Dr. Bautista further emphasized the need for modern mentors, to redirect their mind set in their methods of teaching along Education - Learning - Life-long Learning pedagogy.
On the other hand, the VPAA expounded on the drastic and inevitable changes brought by the pandemic in almost all aspects of the people's lives, with the academe not being exempted. "Bicolanos are known for their resiliency; no challenge ever came unfaced by Bicolanos. With this confidence, we are sure to overcome whatever difficulty we encounter, so long as we keep our positivity", Dr. Esparrago's beaming message to the faculty members attending the virtual activity.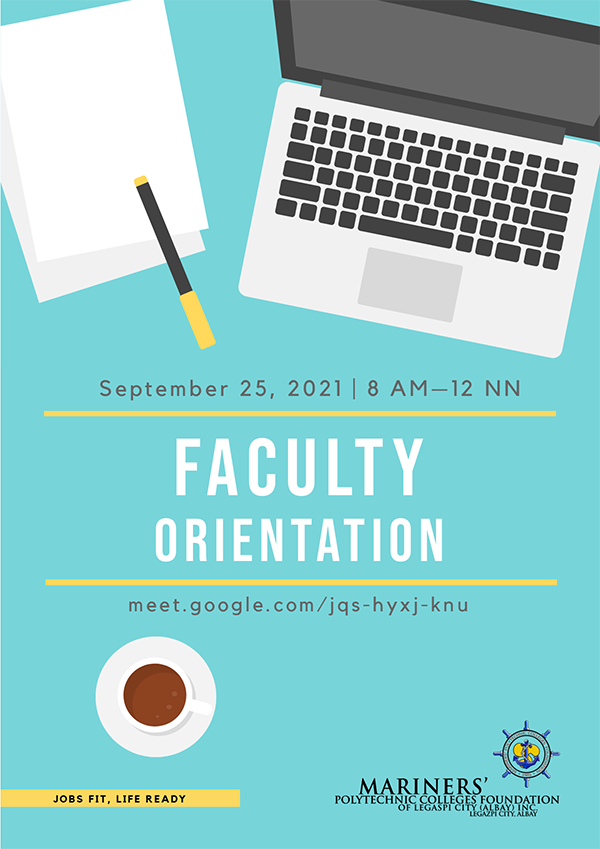 Mariners' Legazpi Upgrades List of Scholarships in Response to Covid 19 Pandemic
For almost two years already, the whole academe involving both lower and higher institutions of learning, had been greatly affected by the prevailing Covid 19 Pandemic. As such, it has brought extremely dire predicament to countless parents, and especially to students who had been struggling to sail through in their studies financially. Worst, their situation was even more exacerbated by the loss of jobs, and various forms of economic difficulties.
Considering the over-all picture, and in an effort to extend some form of assistance to poor but deserving students; Mariners' Legazpi under the present Administration, has recently upgraded the list of its scholarship grants, and other study incentive programs in order to provide more chances to those who will qualify. The following are the Academic Scholarships recently approved, and now open for application, for the 1st Semester, Academic Year: 2021 -2022 for both College and Senior High school Departments.
College:
1. President's List
2. Deans's List
3. Entrance Scholarships for College Freshman
a. With Highest Honors
b. With Honors
c. Excellence in Math, and/or Science
Senior High School:
1. Entrance Scholarship for Senior High School Freshman
a. Students with GWA of 96 – 100
b. Students with GWA of 90 – 95
c. Excellence in Math and/or Science
All of them are in addition to the existing Non-academic scholarships, and Discount Privileges, which are also presently in the process of upgrading. All interested applicants may get in touch with the Admission Team, or Student Affairs and Services Office (SAS), for more details.

WATCH OUT!

BSMT graduate of Mariners' Legazpi City, Yrhen Bernard Sabanal Balinis; will be one of the Panelists during the live Webinar to be hosted by the International Maritime Organization IMO, on September 30, 2021 on the occasion of the World Maritime Day, with the theme; "Seafarers: at the core of Shipping's Future.
Presently, Yrhen is an OS onboard one of the vessels under Marlow Navigation Shipping Company. He is one of the 2020 BSMT graduates, who was officially appointed as an International Representative for the Royal Institute of Navigation. Earlier, he was one of the youngest members of the Human Rights At Sea (HRAS) Non-Executive Advisory Board.
The young promising seafarer, hails from Legazpi City, a former active student leader, and correspondent of the school's publication – The Mariners' Collegian.
https://www.facebook.com/IMOHQ/photos/a.369213739800874/4557204987668374/?type=3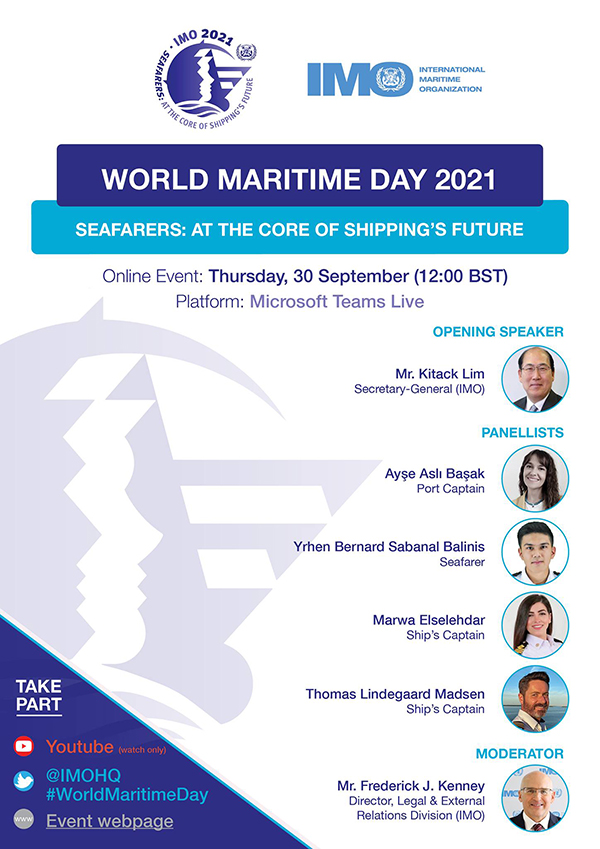 Mariners' Legazpi Celebrates 36th Foundation Anniversary
Bannering the theme "Building Innovative Approaches in Adapting to the New Normal", the entire Mariners' Legazpi Community celebrates today, August 4, 2021, its 36th Foundation Anniversary amidst the continuing pandemic. This now marks the 2nd time in which the community holds the commemoration online.
Moreover, the situation did not hinder the over-all series of activities lined up for the said event from meaningfully pushing through albeit virtually. The program itself was participated by the whole community along with numerous dignitaries representing different government agencies, and various maritime stakeholders. Present were Directors, and representatives from the Regional Offices of NEDA, MARINA, DENR, CHED, PCG, PN, and others. Notable among them was the City Mayor, Hon. Noel E. Rosal who exerted his effort to personally join via zoom and deliver his greetings live. In his short message, he reiterated once again his well wishes for the institution, and the LGU's commitment to support all its undertakings.
Members of the Board of Trustees (BOT) also gave their warm celebratory messages along with the President, Ms. Merle Jimenez San Pedro who expressed her clear direction to continue the institution's thrusts, while incorporating relevant innovations responsive to the calls of the present times. Within the program, a Posthumous Award was given to the late CGA COMMODORE DANTE LA JIMENEZ, for his Leadership and Service which was received virtually by his wife, Ms. Nimpa V. Jimenez who also gave a warm and touching response in behalf of the immediate family.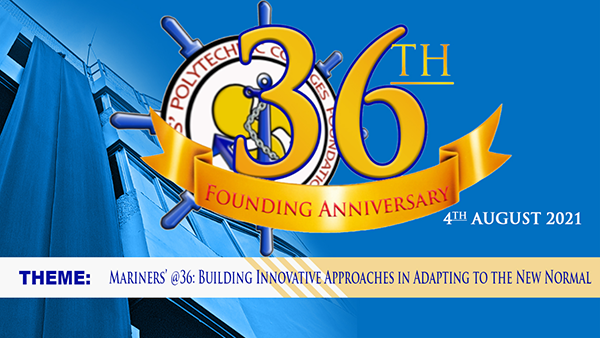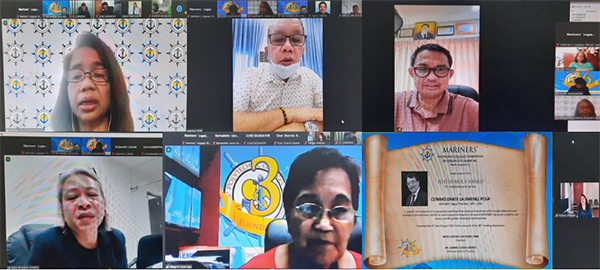 School Creates New Institutional Award in Honor of the Late Founder
As part of the main highlights of this year's celebration of Mariners' Legazpi's 36th Foundation Anniversary, the school, under the auspices of the Office of the President, created a new Institutional Award in honor of the late Founder. It will be bestowed upon individuals to be chosen from three categories, namely; students, employees, and faculty members based on the criteria especially formulated to foster the perseverance, and character values of the late founder, which propelled him to success. As such, it will be known as the Jaime C. Jimenez, Sr., or JCJS Award.
In a simple but fitting virtual ceremony on August 4, 2021, the award and its criteria were introduced and explained by Ms. Lydia B. Cervantes, the first Chairperson of the Screening Committee, and was followed by the brief life stories of each of the pioneer nominees who were composed of Four students, and Two faculty members. They were, Mdn. Glen Borero - BSMT 1, Mdn. Mark N. Marzan - BSMarE 2, Mdn. Roosevelt B. Deblois - BSHM 3, and Mdn. Joselito Tuscano - BSMT 3. Among the employees, were Mr. Jummar B. Basmayor, a SHS Faculty, and Mr. Mark Elias D. Magayanes, GEC instructor.
As of now, they are already considered as the first batch of qualifiers, while the nomination will still continue until January 2022. As such, they received a Certificate of Recognition for having been chosen from among the first group of nominees. However, another selection will be done from among the successful qualifiers to determine the sole winner next year, before the centenary of the late Founder, on April 30, 2022, wherein the awarding ceremony will be formally held.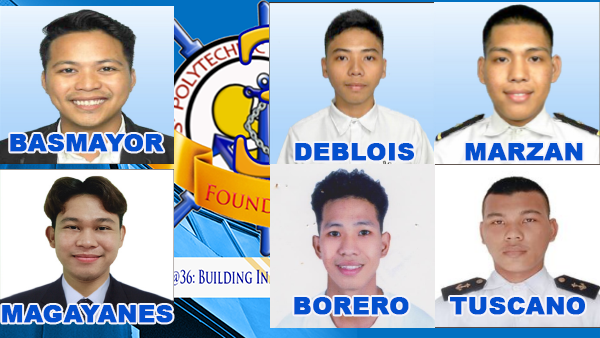 4th Year BSHRM and BSHM Students undergo Online OJT
A total of 33 graduating Bachelor of Science in Hotel and Restaurant Management (BSHRM), and Bachelor of Science in Hospitality Management (BSHM) students from Mariners' Legazpi City availed of the online Front Office Supervisory Training Program offered by Astoria Culinary and Hospitality Institute (ACHI) as part of their required On the Job Training or OJT.
Per latest update from the Practicum Coordinator, Ms. Joan Mangampo who is also a former graduate of Mariners' Legazpi City, the students are doing well in their compliance. This is partly because of the hands on guidance and monitoring of their progress, both in their synchronous and asynchronous sessions by the school, despite the pandemic. As mentioned by Ms. Mangampo, the students are being assisted through regular online meetings and follow ups.
Currently, they are now on their 7th week, and presently learning about Front Office System and Procedures. Also included in their recent module, is the familiarization of Covid Protocols for hotels and other hospitality establishments as mandated by the IATF and DOT. They are expected to finish their OJT by the end of July 2021 following the two and a half month course duration which started last May 24, 2021.
On a special note, Astoria guaranteed that upon their graduation, the students will be given the opportunity to have a week of actual hands on training in their various hotels and resorts, once safe and suitable situation allows.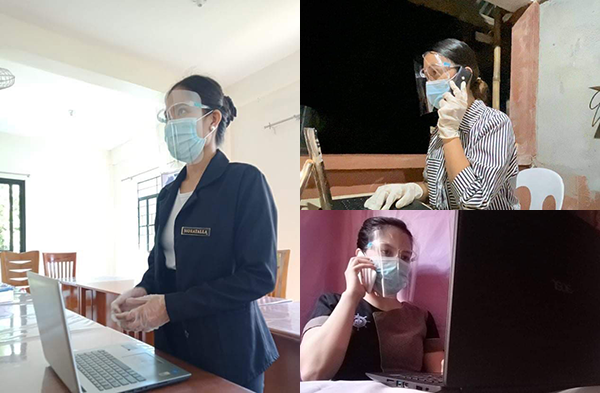 Mariners' Legazpi CGAOTC Officer Graduates from Basic Coast Guardman's Training
Mariners' Legazpi City.
A former officer of the 901ST CGAOTC Unit of Mariners' Legazpi has recently graduated from the Candidate Coast Guard Non Officer's Course or CCGNOC in a concluding rite held on June 19, 2021 at RTC Bagac, Bataan. He is CCGNO Emmanuel Rellores Reblora PCG who hails from Oas, Albay. He is one of the 25 Bikolanos who were included in the 438 trainees belonging to Class 80-2020 Gintong Layag.
Former Midshipman Reblora completed his academic requirements for BSMT in 2017, and was a Cadet Commander Officer 1st Class in the CGAOTC Corps of Officers where he held the position of CG4 - Supply and Logistics.
Now he awaits full completion of other requirements prior to his full designation as full pledged Apprentice Seaman in the Philippine Coast Guard. As of this writing, two more graduates of Mariners' Legazpi are undergoing Basic Coast Guard Training in a separate Regional Training Center. They will be featured in a succeeding update.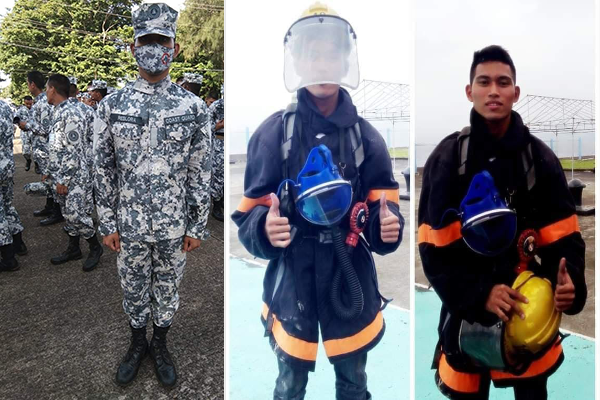 Malacañang Palace conferred the Award of the Order of Lapu-lapu, Rank of Magalong to former PACC Chairman Dante Lazaro Jimenez
IN THE NEWS | Malacañang Palace conferred the award of the Order of Lapu-Lapu, Rank of Magalong to former Presidential Anti-Corruption Commission Chairperson DANTE LAZARO JIMENEZ, through Resolution No. 04 (s. 2021) and pursuant to Executive Order No. 17 (s. 2017) as amended.

"We need a cultural and moral revolution" - PACC Chairman Dante La. Jimenez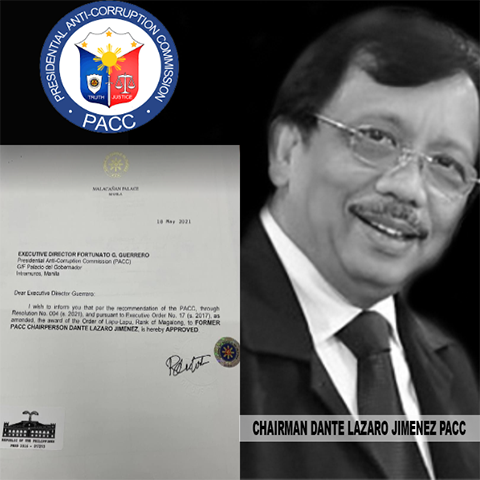 Kugus-Tugang Psychosocial Training Now on its Second Day
The Psychosocial Training intended for the fifty selected employees and students, who will serve as volunteer counselors under the Kumusta Ka component of Mariners' Legazpi's Kugus-Tugang program, will have their second virtual session today – June 18, 2021 with EMPATH Trainers. The short course which will run for four consecutive Fridays, will have for today, Common Mental Health Problems as the main subject matter.
The first session conducted last June 11, 2021, tackled Mental Health 101 which was enthusiastically participated by the chosen attendees, along with some School Officials. The continuing training is part of the main thrusts of the School Administration, to provide trained students and personnel who can assist in addressing mental health challenges that are besetting not only members of the Mariners' family, but also countless individuals in the whole community in general because of the pandemic.
After the brief course, there will be a good number of trained mental health coaches available for the Mariners' community, especially to the students who are the most likely affected by the difficulties of the present situation.

Mariners' Legazpi Institutional Community Care Program, Kugus-Tugang officially launched
As highly notable, despite the prevailing difficulties brought about by the Covid 19 pandemic, exacerbated by inclement weather conditions every now and then as we enter the Typhoon Season, the school continues to sustain its operation in order to ensure the continuity of education and work for its employees. However, the challenges being faced by the community due to the situation undoubtedly take much toll not only in the economic side, but also in the physical and mental well-being of both the employees and students alike.
For this, the school administration under the direction of the Office of the President, has come up with a holistic institutional care program, especially intended to cater to the needs of the community at this extremely trying times. This project which will be officially launched, is dubbed as "Kugus-Tugang", which has four component programs namely; "Aramun Ta!" – one that will focus on promoting Awareness and Training, "Kumusta Ka?" – which will provide counseling for those experiencing mental health issues, "Padagos Kita" – an initiative that will strengthen Career and Practicum Awareness through Job Fairs and the likes, and "Bantay-Salud" – which will offer significant Covid19 prevention information campaigns, as well as Medical and Dental consultation services online.
The Bicolano phrase Kugus-Tugang, literally means to hug one's brother or sister. It is a comprehensive health and wellness program of MARINERS' Legazpi which aims to provide a learning and social support network to all members of the MARINERS' Community particularly in this time of the pandemic. This encapsulates the overall direction of the management to promote mental health, and overall wellbeing, mindfulness, empathy, and sense of solidarity and community among its students, employees, and other stakeholders. Throughout the duration of the program, MARINERS' will collaborate with experts and professionals to share their knowledge, expertise, and insights along the various components of the project.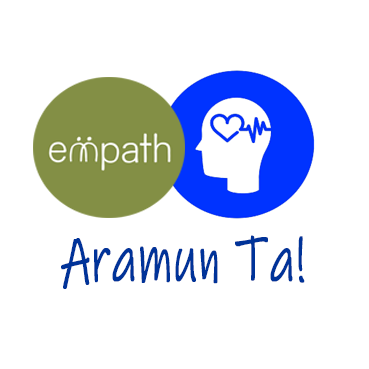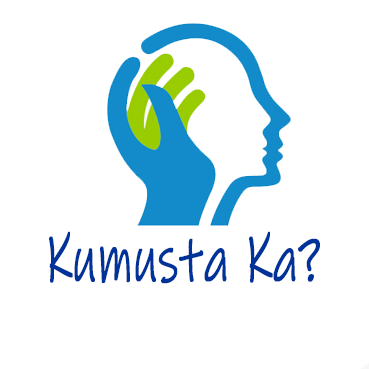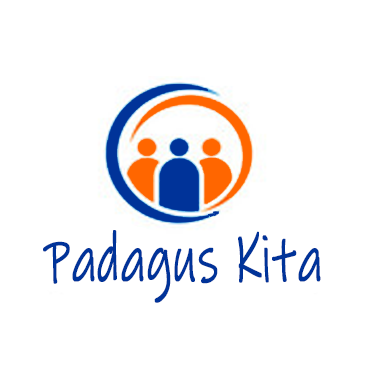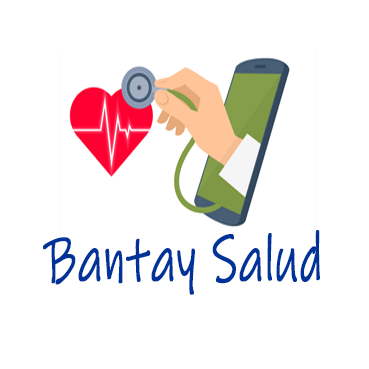 Mariners' Legazpi graduate, Newest Representative of Royal Institute of Navigation (RIN)
Another feather has been added to Mariners' Legaspi's hat, as one of its graduates in 2020 has just been officially appointed as the International Representative for the Royal Institute of Navigation in the person of OS Yrhen Bernard S. Balinis. It is a committee required to manage and grow the Royal Institute of Navigation Younger Members' Group (RIN YMG). Its members are active and enthusiastic individuals that represent the needs of the YMG, and RIN at the early academic and career stages of young people in the field of Navigation. Committee member's roles however are voluntary and indefinite, until further notice.
As stated by the RIN Chairperson and East Midlands representative Mr. Joseph Walters, OS Balinis will represent any internationally-based YMG member outside UK at committee level and will seek to encourage and include these members in all YMG and RIN activities, particularly on online platforms. In similar capacity, he will also be in a unique position to represent young seafarers and early career maritime professionals who are members of the RIN YMG, and to promote the group across his navigation networks.

OS Balinis has just been designated earlier, as one of the youngest members of the Human Rights At Sea (HRAS) Non-Executive Advisory Board. He hails from Legazpi City, formerly an active student leader, and a school publication writer.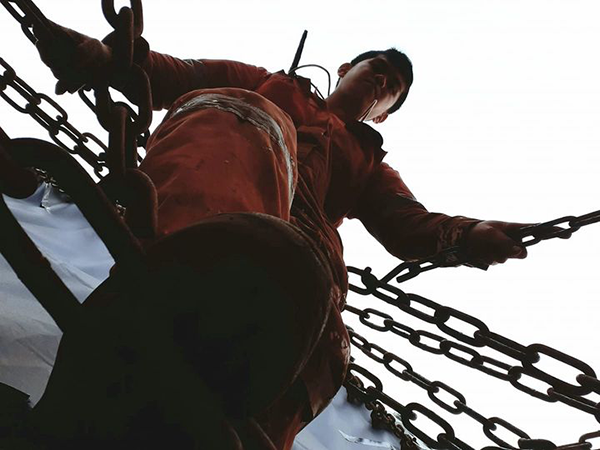 Mariners' Legazpi Launches "Kugus-Tugang" Program
One of the major setbacks experienced by many people as part of the ill-effects of the pandemic, are the various mental health issues that creep into the human psyche, regardless of status, gender, age, or profession. Undoubtedly, students for one, are among those who had been badly hit by this situation, as they try to balance their coping abilities in meeting the requirements of their on-line classes, the glaring hardships in their families, and the psychological effects of suddenly being confined to their homes for a long time now.
Responding to their present needs along this line, the Office of the President, through the Guidance Office, has launched a special program dubbed as "Kugus-Tugang", which aims to address Mental Health challenges and promote empowerment against COVID19 pandemic among students and MPCF employees alike. Relative to this, a virtual MOA signing was done ceremonially between the MPCFLC President, Ms. Merle Jimenez San Pedro, and Ms. Stephanie Angelica S. Naval, Founder and CEO of EMPATH – a Corporation engaged in the business of providing mental healthcare and other mental wellness related activities, on May 7, 2021. In her message, Ms. San Pedro highlighted the significance of the said endeavor, as it fully express one of her Administration's primary objectives, which is the consistent prioritization of students' welfare. Indeed this is a welcome development for the entire Mariners' community.
"Kugus-Tugang" is a combination of two Bikol words which means Brotherly Hug. The term encapsulates the over-all direction of the administration that aims to extend utmost care and solidarity, as well as promote positivity within the MPCF community, particularly in these most trying times.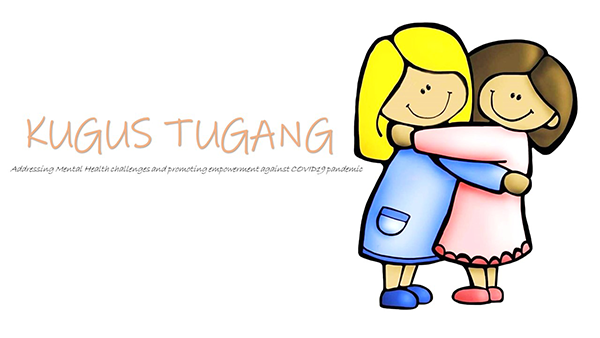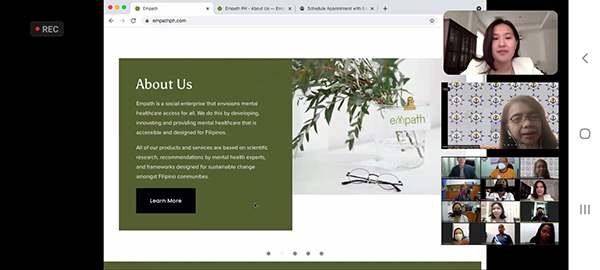 SAS Hosts Virtual Forum for Corps of Midshipmen Candidates
In an unprecedented move, the Student Affairs and Services (SAS) office hosted the first ever Candidates' Forum for the Corps of Midshipmen on May 6, 2021, albeit virtually. This was because, all classes remain on line due to the pandemic, and current health protocols prohibit mass gatherings.

Moreover, the situation did not deter the enthusiasm of aspiring student leaders to put their stake in the election arena for the school's supreme student governing body. As such, a total of 24 candidates, representing the two competing parties – the Students' Alliance for Innovative Leaders (SAIL), and the LIDERATO Party; were able to expound on their respective platforms of government, witnessed on line, by most of the students and faculty members.

As observed, the exchanges of ideas during the brief debate, showed the promising qualities of the current candidates manifested in their spontaneity and wit during their live interactions. This presumably, bodes well for a new breed of student leaders, who will steer the studentry in the remaining days on the pandemic as they assume their respective positions after the election on May 14, 2021.ive positions after the election on May 14, 2021.

Tribute of Love & Appreciation for our beloved
COMMODORE DANTE LAZARO JIMENEZ
WATCH: Today, we will be paying a Tribute to our beloved Commodore Dante La Jimenez through our regular Radyo Platform in Buhay Marinero.

You may watch this through the FB Livetstreaming via Radyo Veritas Link.
https://www.facebook.com/pg/veritaslegazpi/posts/?ref=page_internal

The program will start at 11:00 AM on February 11, 2021 (Thursday).

Together let us reminisce Commo Dante's life, legacies, and contributions to the maritime and business industry as well as his fight against violence, crime, and corruption. With your Katiwala- Bernadette Llena.

Thank you for your love and support!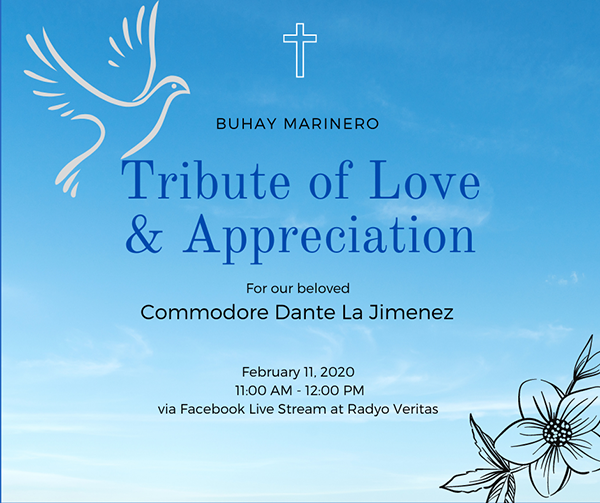 COMMODORE DANTE LAZARO JIMENEZ, PCGA
1952 – 2021
The MARINERS' community deeply grieves the passing of Commodore Dante La Jimenez, PCGA, a passionate leader in Philippine maritime education, an advocate for a strong seafaring and Filipino shipping industry. He was former President of the Philippine Association of Maritime Institutions (PAMI) and Mariners' schools/allied maritime institutions in the country.
He passed away last night at 9:43 pm, January 29, 2021 due to Aortic Aneursym.
He was 68 years old.
A snappy salute to our Beloved Commodore.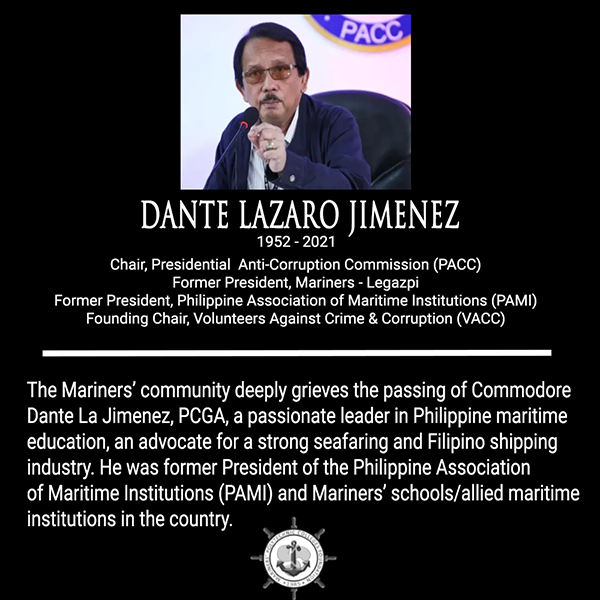 V.Group Ltd. visits MARINERS' Legazpi
By: Lydia B. Cervantes
Legazpi City, 16 January 2021 – Through the efforts and initiative of Mariners' Legazpi's dynamic and energetic President Madam Merle Jimenez-San Pedro, Mariners', a big shipping company like V. Group Ltd. with the Pacific Ocean Manning Inc. [POMI], visits the institution to select applicants from this school and be with their group of competent crewmembers.

Capt. Dante C. Bo, Ph.D and Capt. Berina with the aspiring cadets during the Qualifying Interview
As soon as the institution's management learned of this opportunity, a thorough and rigid selection was done by the Academics Department on thirty-two (32) cadets.  After such systematic choosing of cadets for possible interview, the results ended with a total of twenty [20] qualified applicants:  ten (10) from deck and ten (10) from engine.
V. Group Ltd.'s Capt. Dante C. Bo, Ph.D and Capt. Berina conducted the final interview on the pre-selected twenty (20) cadet-aspirants who have completed their On-Board Training and have met V. Groups standards and requirements.  The V Group after its in-depth interview about the ship and the shipping industry, got five [5] for deck and five [5] for engine.  It was noted that V. Group officers present did not focus much on their academic performance, but rather it was the cadets' attitude, appearance and bearing that made these cadets met the standards of the company.

However, cadets who have finished Class Room Instructions [CCI] may apply as long as they have relevant documents as evidence on their completion like their Transcript of Records [TOR], Seaman's Book, training certificates, etc.
Those who were selected were ecstatic and delighted as they get assurance of being in an international vessel.
Generosity outpours for Albay as MARINERS' Legazpi conducts its Relief Assistance Program
Legazpi City, Albay -- While still at the height of its fight against the CoViD-19 pandemic, the Bicol Region, located in the so-called "typhoon alley" was pounded by series of typhoons during the last months of 2020. The strongest of them, STY Rolly [I.N. Goni] made landfall twice in Bicol, with Albay suffering the brunt of its impact, had brought catastrophic winds and torrential rains that resulted in severe storm surges, inundation, landslides, and volcanic mudflows. In the province of Albay alone, Rolly had left 13 dead, many injured, and hundreds of families either homeless or displaced.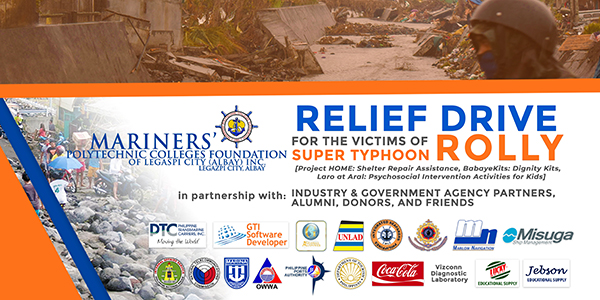 In support of the government-led response and recovery efforts, MARINERS' Legazpi's President, Ms. Merle Jimenez - San Pedro had immediately mobilized the Task Force Tabang under the Institution's Crisis Management Team. It is in charge of determining how the School and its partners can meaningfully respond and contribute to the needs of both its internal and external communities. The Task Force coordinated with local government units and disaster-response agencies to gather critical data and information necessary for target communities identification, assessment, planning, and mobilization.
The MARINERS'  Relief  Assistance  Program  aims  to provide integrated post-disaster humanitarian assistance to help victims gain access to basic supplies and services that would promote their overall well-being and recovery. The program is comprised of three components: [1] Project Home: Shelter Repair Assistance, [2] Laro at Aral: Psychosocial Intervention Activities for Kids, and [3] BabayeKits: Dignity Kits for Women and Girls.
In just a few days after the launching of the program, cash and in-kind donations from institutional partners, industry shipping partners, alumni, private groups and organizations, local business establishments, donors, and friends started pouring in. The School also inked partnership     agreements    with   government     agencies   and    other    organizations    for
collaboration.
MARINERS' faculty and staff, student leaders, and other volunteers eagerly assisted the Task
Force Tabang in the preparation, coordination, and execution of the program. The Relief
Assistance Program was conducted from December 17 -19, 2020.
The response efforts of the Institution concentrated on the 1st District of Albay, specifically:
[1] Brgy. Comon, Tabaco, [2] Brgy. Malolos, Malinao, and [3] Brgy. Dap-Dap, Tiwi. It was also able to assist its adopted communities - Brgy. Buhatan, Sto. Domingo, Albay, and Brgy.
Maslog, Legazpi City.
Project HOME: Shelter Repair Assistance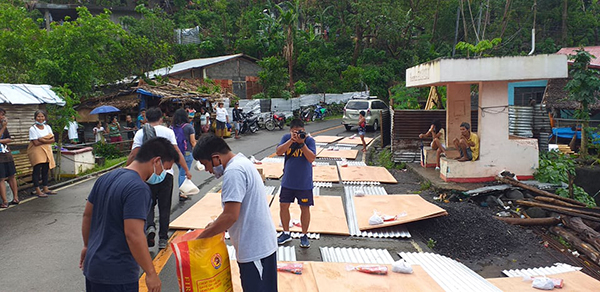 This project offered basic shelter repair kits to seriously impacted households. The Task Force, in cooperation with LGU Dap-Dap in the municipality of Tiwi, had identified 47 families whose houses were totally damaged by the typhoon. To help them rebuild their shelters, MARINERS' with its partners were able to donate several pieces of G.I. sheets, plywoods, and a few kilos of different sizes of nails to each family.
With the help of the Institution, Project HOME was also extended to severely affected MARINERS' faculty and staff and students, residing in the provinces of Albay and Catanduanes.
Laro at Aral: Psychosocial Intervention Activities for Kids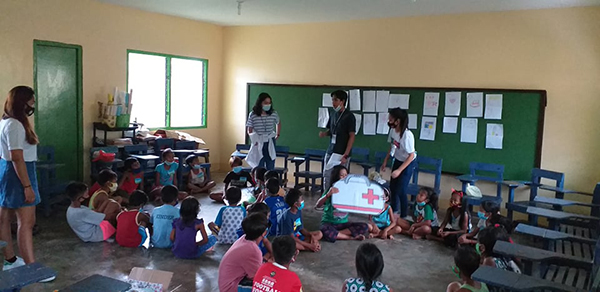 This component focused on promoting emotional wellbeing and psychological recovery from fear and/or anxiety among children in disaster-affected communities. The Laro at Aral is part of the Alay kay Boboy Program which is celebrated annually by the Institution in commemoration of the death of Engr. Jaime "Boboy" L. Jimenez, the youngest son of the founders of MARINERS' - Commo. Jaime C. Jimenez Sr. and Mdm. Eliza L. Jimenez. Boboy was an advocate for children's rights and welfare.
Owing to the observance of health and social distancing measures, the team was able to accommodate  just 311 kids in the entire duration of the program.  The activities  among others included Kwento ni Boboy, expressive arts, and Ready Kids. With the generosity of the donors and partners; snacks, notebooks, and loot bags were also distributed to the beneficiaries.
BabayeKits: Dignity Kits for Women and Girls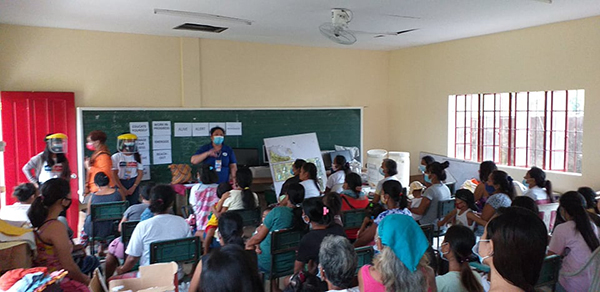 The BabayeKit holds a collection of hygiene and gender-specific supplies explicitly tailored
to meet the non-food needs of women and girls in disaster-affected areas. Each kit contains
necessities such as sanitary napkins, deodorant, toothbrush, toothpaste, bath soap,
shampoo, alcohol, comb, insect repellant, and face towel.
MARINERS' partnered with gender and development teams of government agencies and private organizations  to realize this project.  A total of 595 women received the BabayeKits. Basic self-love and self-care lecture and empowerment activities were also conducted before the distribution of the kits.
Extra Help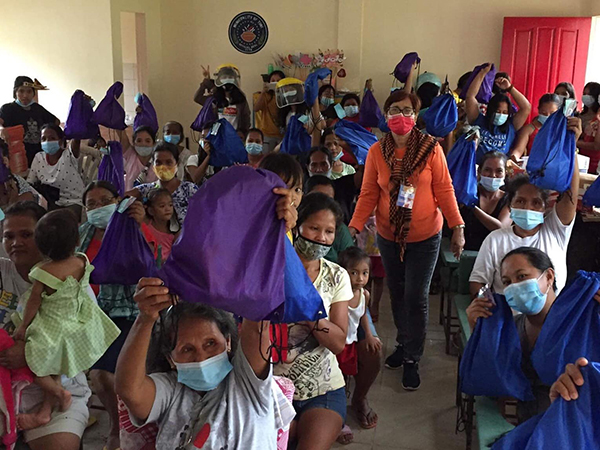 MARINERS' also received in-kind donations in the form of simple Noche Buena packages,
sacks of rice, basic food items, distilled drinking water, basic medicines, and kid's bags with
learning materials. These items were distributed to residents of the recipient communities.
The MARINERS' Community is humbled by the solidarity, generosity, and trust of many
partners, alumni, donors, and volunteers. Their donation, time, and effort are instrumental
in bringing in the most needed help to the Bicolanos.
#TFTabang RELIEF DRIVE for the victims of STY Rolly
In just a period of several weeks, the Bicol Region was fiercely pounded by extreme weather disturbances that caused extensive and significant damage to infrastructure, livelihood, and shelter. STY Rolly [I.N. Goni] which is considered as the strongest typhoon of 2020 had triggered the worst storm surges, inundation, landslides, including volcanic mudflows [i.e. lahar]. Yet, even before residents can recoup, another typhoon [Ulysses, I.N. Vamco] struck the region anew.
In an effort to provide the necessary assistance to our suffering brethren including our students and employees, the Institution had mobilized the Task Force Tabang to conduct assessment on the ground, and coordinate with severely distressed communities. During the team's ocular visits, they gathered that victims are mostly in need of shelter assistance in the form of galvanized iron sheets, plywood, lumbers, and nails. Residents of hardest-hit areas are also in need of hygiene or dignity kits especially for women and girls.
It is in this regard that we are appealing to your kindness and generosity to join us in this humble cause of assisting the victims and foster their recovery at the soonest possible time from this traumatizing experience. Your cash or in-kind donations are much welcomed and appreciated.
For cash donations, you may send it to any of the following:
Account Name: Mariners' Polytechnic Colleges Foundation
RCBC Account Number: 1309-00567-4
BDO Account Number: 004250341251
DBP Account Number: 410-615-1
Kindly send the screenshot or picture of the proof of your donation to our Fb/Messenger account at
Mariners OFA or email us at ofa@marinerslegazpi.edu.ph.
Should you have any queries and/or clarifications, please do not hesitate to contact us at:
+63 938 865 8447 [Junnel Madela]
+63 923 985 5534 [Bernard Apuli] and,
+63 907 773 9273 [Angelica Federico].
You may also email us at tftabang@marinerslegazpi.edu.ph.
#tftabang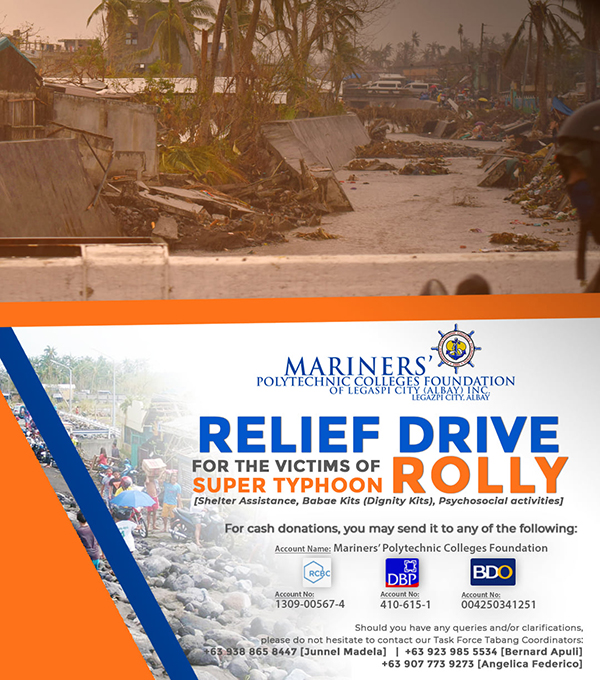 Celebrating National Maritime Week 2020 and Maritime Archipelagic Nation Awareness Month (Mana Mo) 2020 amid COVID19 Pandemic
By: Lydia B. Cervantes
MARINERS' LEGAZPI joins the International Maritime Organization [IMO] in celebrating the National Maritime Day this 2020. Despite this COVID 19 pandemic, this institution is one spirit as we think not only of our Filipino seafarers, but the maritime world as well. Every year this celebration focuses on the importance of shipping safety, maritime security and the marine environment and the highlights on the certain aspect of IMO's work.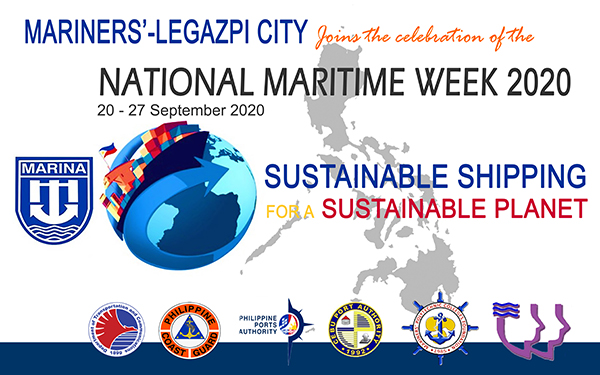 As the Philippines is one of the countries which sends seafarers internationally, it is but fitting that we also follow on how to improve marine safety not only for the ships where our seafarers are on board, but their safety and mental well-being while on board vessels and away from their respective families. This also opens the eyes of many to the protection of marine environment as this is one great source of livelihood for many.

This year 2020, MANA Mo's theme is:
"Awakening a Whole-of-Nation Consciousness on Philippine Maritime Issues through Online Platforms".

The Maritime and Archipelagic Nation Awareness Month or MANA Mo has been celebrated during the whole month of September since 2017 under Proclamation No. 316 signed by President Rodrigo Roa Duterte. This was done to raise awareness of the country' vast water domains and its potentials. The activities linked to the celebration are aimed towards the protection of the country's wide marine territories and resources aside from the appreciation of the importance of the Philippine maritime industry in the global shipping industry. This year's theme was thought of due to the pandemic, therefore, various online platforms and the free social media, which are very much accessible to all Filipinos, will be boosted for this endeavor.
The Grand Matriarch of MARINERS'

By: Lydia B. Cervantes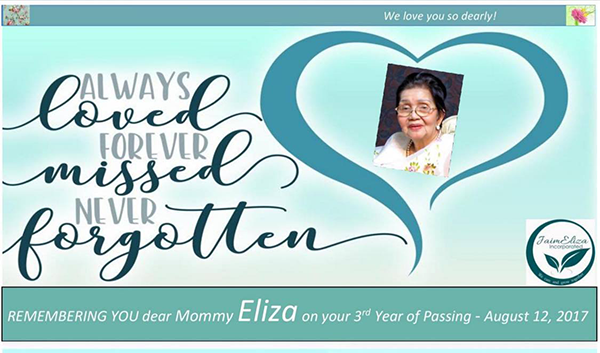 It was the 14th of June in 1924 when a lurid yet sweet sound was heard from a humble place in Canaman, Camarines Sur.  What a pleasurable sound for her parents.  This little girl was the second child in the brood of five.  She was raised in a very Catholic family wherein she was christened, ELIZA.
She was a doting daughter who grew up with strong disposition and principle in life.  In her studies she took up a course (now called program) that would land her to a better position and job in the Supreme Court of the Philippines, among others.

Along the road of existence, she met a man who was equally of the same character and quality that she had.  They were a match made in heaven, so to speak.  She was married to Commodore Jaime Chavez Jimenez who hailed from a not so a far town from her birth place – Libmanan, Camarines Sur.  They were gifted with six (6) children who they had raised to be God-fearing and be-principled. 

Somehow, their being formidable, resilient and with soft hearts for the poor and the needy brought them to the world of education – dreaming that the Bicolanos deserve to have good education and good standing in the society as well.  Hence, Mariners' was born – a maritime institution founded in Naga and Canaman, Camarines Sur and after which Mariners' Legazpi was born.

Madame Eliza, as she was called and addressed by her faculty members, personnel and staff, showed great concern for them and the Mariners' students.  She worked hand in hand with Commo Jaime, her loving husband, in running the three (3) schools shuttling of about three (3) hours of ride to Legazpi City and back to Camarines Sur.  This daily fare did not make them waiver at all especially Madame Eliza when she was left alone when Commo Jaime died during a graduation rite at Mariners' Legazpi. This showed how committed they were to the Bicolanos.  Their children assisted them in this feat.  The three (3) batons had to be passed to their well-educated children.  Dedication and commitment had to live as she instilled in them her principle.

Her being a very dedicated and hard-working woman and hated being late, she met an accident in her haste to go to her office in school at a very early time.  She was later confined to a wheelchair.  This, nevertheless, did not stop her in going to school to administer and supervise things.  Had it not been for her age of 93, she should have been here looking after every one's welfare amid this pandemic.

MADAME ELIZA LAZARO-JIMENEZ joined her creator on August 12, 2017 – 3 long years of being missed by all.
The 34th COMMENCEMENT EXERCISES: Business Education and Maritime Studies Virtual Ceremonies

By: Lydia B. Cervantes
This 2020 graduation ceremonies are exceptional, memorable and unique as graduating students and those completing their certificates for shipboard practice are seated at the comfort of their homes with their parents, guardians, relatives and friends.  This is Mariners' Legazpi first-ever virtual graduation ceremonies for both the business and maritime education.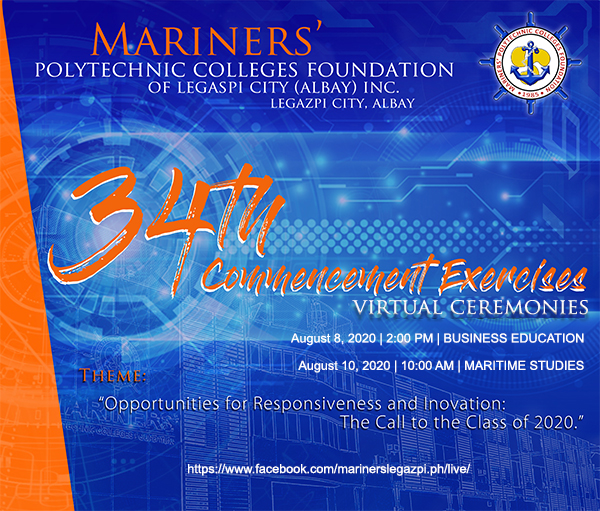 The Business Education Virtual Graduation:
The business education graduates composed of Bachelor of Hotel and Restaurant Management, Bachelor of Science in Hospitality Management, Bachelor of Science in Customs Administration and Bachelor of Science in Mechanical Engineering, had their ceremony on Saturday, August 8, 2020 with NEDA Regional Director, Region V, Ms. Agnes Espinas-Tolentino, CESO III as its Guest Speaker.   She gave her commencement address with great hope for the future even amidst the sea of problems.  Positive thoughts should always be present for all to go forward and reach their dreams for their future as there are various avenues for work even during this crisis.

Ms. Annie N. Recierdo, who garnered the highest academic distinction, a graduate of Bachelor of Science in Hospitality Management, delivered the valedictory address.
Business Education Virtual Ceremony Link:
https://www.facebook.com/marinerslegazpi.ph/videos/346216053428977
The Maritime Studies Virtual Graduation:
As this pandemic – the COVID 19 made it impossible for a face-to-face graduation, Monday, August 10, 2020, is the virtual graduation ceremony for those who have completed their bachelors' degree in maritime education, both in marine engineering and marine transportation.  This is likewise the confirmation day for those who have completed their certificate for shipboard program [CSP] – a three-year program in maritime education.
The graduates of bachelor's degree and CSP are lucky to have Vice-Admiral Robert A. Empedrad, AFP (Ret), currently the MARINA Administrator, for their Commencement Speaker.  VADM Empedrad talks to the maritime graduates of their commitment to the country's development and progress and MARINA's paramount concern of looking into the seafarers' safety, morale and welfare.  It is now the role of these seafarers and cadets to uphold and ensure the best performance, excellence, passion, dedication.  As they work on board, they must have joy, enthusiasm and succeed for the fulfillment of their dreams.  Coupled with these virtues, they must invoke the help of the Lord God Almighty for their safety, good health and wisdom.
Maritime Studies Virtual Ceremony Link:
https://www.facebook.com/marinerslegazpi.ph/videos/345006086683350
This year's commencement theme is: "Responsiveness and Innovation: The Call to the Class of 2020."  Though this theme seems to be a big challenge to the graduates, nothing is impossible as long as everyone is receptive and inventive in the positive way. 

Sail on graduates and always remember to bring with you the values that you have learned from this Institution – the Mariners' Polytechnic Colleges Foundation of Legaspi City (Albay) Inc.
MARINERS'- LEGAZPI CITY Celebrates 35th Founding Anniversary via Zoom and Facebook Livestreaming

By: Lydia B. Cervantes
This year's foundation theme is: "MPCF-LC @35: Resilience and Positivity in Service and Leadership in the New Normal".  Indeed, Mariners' Legazpi, which is now being steered by an iron lady, Madame Merle Jimenez-San Pedro will continue to sail even on rough oceans and seas and bring back to shore the leaders of tomorrow.  Indeed, the hands of Madame San Pedro are full as she too is the CEO of would-be restaurateurs, and mechanical engineers and Commissioner of Customs for would-be customs brokers.  These tasks she strongly upholds and sustains for she is a Filipino woman of resilience and flexibility.

On August 4, 1985 the Mariners' Polytechnic Colleges Foundation of Legazpi City was founded by a Retired Philippine Navy Officer, Commodore Jaime Chavez Jimenez who hailed from Camarines Sur, one of the provinces in the Bicol Region.  He and his wife, Madame Eliza Lazaro-Jimenez, who was also from the same province, had dreamt of helping the youth of Bicol to become professionals in the field of maritime and of business.  Hence, Mariners' Legazpi built this learning institution from a lowly yet humble school.  Slowly, buildings were built to accommodate thousands of students not only from Bicol but from neighboring regions as well.  For its vision, Mariners' Legazpi aims to be the premier institution for professional leaders in maritime-business education and training.  Its philosophy is to sail the ocean of academic excellence and holistic development for competent and socially responsible citizens.  It is also committed to develop holistic, competent and disciplined professionals towards the improvement of quality of life.
MPCF-Legazpi continues to fulfill the dream of its founder - to develop them academically and culturally as well.  Now, it has grown and is still growing into an institution geared towards competence, discipline, honesty, loyalty and social responsibility.
Mariners' Legazpi is an epitome of resilience and positivity as it has overcome many obstacles like volcanic eruption and strong typhoons.  As Mariners' Legazpi is a stronghold of a learning institution, this will sail on in calm and stormy weathers.
The founding anniversary celebration for August 4, 2020 was a unique and first-ever virtual event via live streaming on zoom app.  Stakeholders and alumni were invited to give their messages.  Dr. Sunny Aguila, a 1996 graduate in BSCA gave his emotional message as she thanked Mariners' Legazpi for her success.  Dr. Gabriel La. Jimenez, the Chairperson of MPCF-LC delivered his message with great hope and enthusiasm for the years ahead.  This year's guest speaker was Engr. Janet Naag, CHED Region V Education Specialist for Maritime and Engineering Programs.  She talks of her journey with Mariners' Legazpi as she saw how it rose from its humble beginnings up to where it is now.
As its Founder had said, "I am not afraid of storms for I know how to sail my ship." 
The 35th Founding Anniversary celebrations via Zoom and Facebook Live Link:
https://www.facebook.com/marinerslegazpi.ph/videos/2694621490806083
Tabang Bikol Movement, RDC-5, Mariners System spearhead round table discussion on COVID-19 and ASF

Tabang Bikol Movement (TBM), in cooperation with Bicol Regional Development Council thru  Chairman  Noel Rosal and Mariners System thru Mariners Naga and the Office of Civil Defense (OCD) in Region 5 launched a Round Table Discussion on "Public Health: Understanding and Mitigating the Risk of Covid-19 and other Infectious Diseases".  It was held on February 25, 2020 at the Mariners Tourism and Hotel Institute (MTHI) of Mariners Polytechnic Colleges in Naga City and done in line with the Mariners System's commitment to its Corporate Social Responsibility (CSR).

(Left picture) MPCF-Cam Sur and MPC-Naga President Dr. Marilissa  J. Ampuan (extreme left) delivers the welcome address at the opening of the Round Table Discussion.  (Right picture) Executive Vice President Dr. Gabriel L. Jimenez  (2nd from left in white shirt) joins the RTD with Bicol Regional Directors Benjamin Santiago of DOT (2nd from right) and Arnel Garcia of DSWD (3rd from right).
(Right picture) MPCF-Cam Sur & MPC-Naga Board of Trustees Chairman and Tabang Bicol Movement Chairperson Madame Evita Jimenez-Tuazon leads the event as prime mover of the Round Table Discussion.  (Right picture) Other Forum participants include representatives from the African Swine Fever-Task Force(ASF-TF) of the Department of Agriculture in Bicol and Professor Bobby Tuazon (extreme right) from the Center for People in Governance (CenPEG) of the University of the Philippines.
Among the resource persons were some Regional Directors from the line agencies. Present at the forum were Regional Directors Arnel Garcia of DSWD, Benjamin Santiago of the Department of Tourism, Atty. Anthony Nuyda of DILG, Agnes Tolentino of the National Economic Development Authority (NEDA), and Gilbert Sadsad of the Department of Education.
Also in attendance were officials of the Department of Agriculture, Office of Civil Defense (OCD), and from the provincial office of the Department of Trade and Industry (DTI). 
Leaders of multi-sectoral groups attended the affair, with them raising questions on how they can contribute to the arrest of the spread of Corona Virus Disease (COVID-19) and the African Swine Fever (ASF) Dr. Joey Ranola and Dr. Rey Millena of Bicol Medical Center in Naga City hammered on the preventive measures which can be done to help arrest the spread of COVID-19. 
On the other hand, the group from the Department of Agriculture led by its African Swine Fever (ASF) Task Force head Dr. May Rodriguez  rallied the participants to help continue create awareness among the people on the role they can play to help arrest the spread of the animal disease - ASF.
Other guests from the regional offices of government delved on the impact of COVID-19 and ASF on the economy of the region and the interventions which the government is doing in the crisis resolution.
The three Mariners schools in Bicol (MPCF-Legazpi, MPCF-Camarines Sur and MPC-Naga) sent key personnel to gather information which can be echoed in their respective academic communities.
At the end of the program, the participants signed a commitment statement in support to the effort of the government agencies and the cooperation which the private sector can give to mitigate the negative impact and the interventions which can be jointly initiated to hasten the process in resolving the crisis being experienced today in Bicolandia
SHS MARITIME PRE-BACC ABOARD STARLITE FERRIES FOR WORK IMMERSION
"Work Immersion allows SHS to exercise what they learned from theories and in-school training to the actual workplace"
The First and Second Batch Work Immersion of SHS Maritime Pre-Baccalaureate cadets onboard Starlite Ferries tranporting "Batangas-Calapan-Batangas-Caticlan" from January 24 - 27, 2020.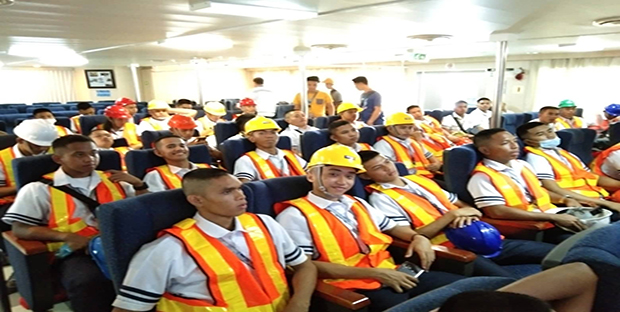 The SHS cadets during the pre-departure orientation and workplace briefing at Starlite Ferry.
The primary goal of work immersion is to prepare the SHS for college, work and exposure to the workplace. It includes the application of competencies to the actual work onboard; To develop life and career skills; apply the principles and theories learned from school; and enhance their technical and communication skills.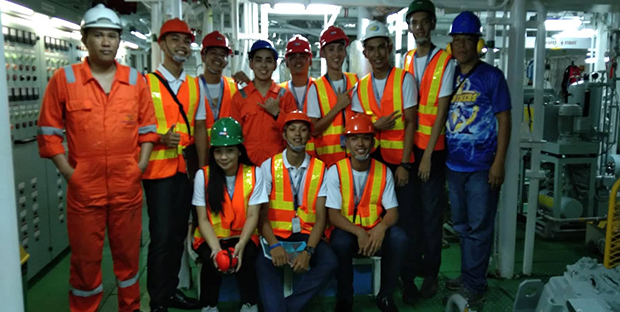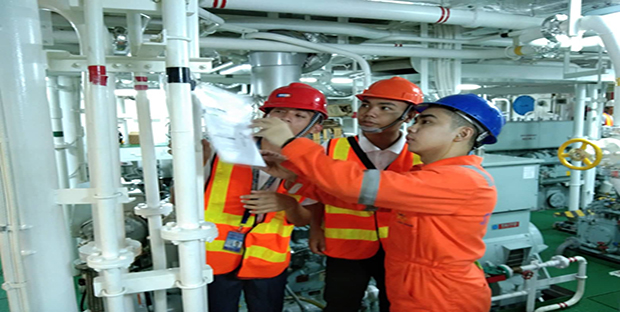 Familiarization of SHS Maritime Pre-Bacc Cadets at the Starlite Ferry engine control room.
In the 3-day work immersion activities they fully understand and familiarize the different navigational equipment and marine engineering machineries, the importance of safety practices onboard, and knowledge involving in the daily routine works as maritime officers, marine engineers and ratings.
The team lead by 2/M Penetrante and Mr. Glen Gangawan.
READY KA NA BA? Career-Readiness Project initiative of MARINERS' LEGAZPI CITY.
"Ready Ka na Ba?" or RKNB? project is an initiative of MPCF-LC geared towards reinforcing the career readiness of the institution's maritime students. The project aims to help maritime students prepare for their school to onboard transition and equi them with the knowledge, skills and attitude (KSA) that will increase their competitiveness and develop their career resilience.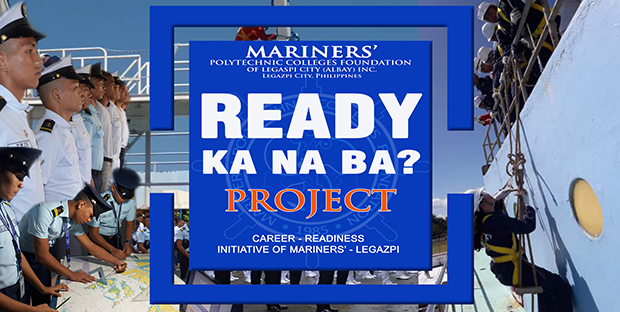 The Program will be participated in by 73 Third-Year BS Marine Engineering and BS Marine Transportation students who are scheduled to move up to their onboard training in 2020.
Participants will undergo a 12-week lecture and workshop series on selected academic and student development topics. Each session will be conducted on Saturday for four (4) hours from December 2019 to March 2020.
The program has a two-pronged approach: Academic Review and Student Development. The 12 weeks will be divided equally between the two areas. The first area will be handled by the Academics Department, while the Student Development will be spearheaded by the SAS Department.
Academic Review will focus on the review and enhancement of students' proficiency in Mathematics, english, and core Maritime Courses. This is vital to help the students' prepare better for the qualifying examinations of partner shipping companies.
On the other hand, Student Development will center on Bearing and Posture, Attitude, Discipline, Leadership, and other Career Readiness Skills. This component aims to help the students boost their confidence and prepare for career examinations and interviews.
NATIONAL MARINE SUMMIT 2019:
NEW POLICY BINDS GOVERNMENT, PRIVATE SECTOR TO BOOST MARITIME INDUSTRY
Yashika F. Torib (2019, November 6), The Manila Times 
A newly updated resolution on the National Marine Policy (NMP) strengthens the collaboration between the government and private sector for the long-term improvement of the maritime industry.

The resolution, submitted to President Rodrigo Duterte as represented by Executive Secretary Salvador Medialdea during the National Marine Summit on October 29 and 30, was unanimously drafted, approved, and adopted by industry leaders for the sustainable development of the country's maritime assets and interests.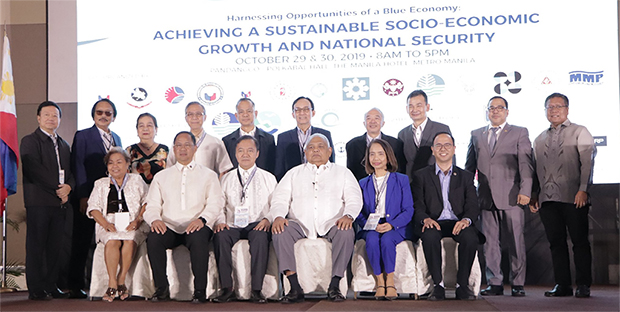 NMP 2019 (Front row, from right) Atty. Michael P. Ong, Senior Deputy Executive Secretary; Merle Jimenez-San Pedro-Chairman, MS MMP; Exec. Sec. Salvador C. Medialdea-Executive Secretary and Chairman, NCWC; Assistant Secretary Lino Dabi, DOTr; VADM Narciso A. Vingson, Jr. – OIC, Marina and Dr. Elizabeth Salabas-Co-Convenor, MS MMP. From left (standing): Engr. Sammuel T. Lim, Chairman, SONAME; Commissioner Dante La. Jimenez- Chairman, PACC; Atty. Brenda Pimentel, Co-Convenor, MS MMP; RADM Adonis B. Donato – Co-Convenor, MS MMP/Chairman, OSM Maritime Services; Capt. Arsenio Padilla – Co-Convenor, MS MMP/Exec. Secretary, PAMTCI; Capt. Gaudencio C. Morales, Co-Convenor, MS MMP/President, ISP Engr. Felix Oca – Co-Convenor, MS MMP/President, PAMI; USEC Jose Luis M. Alano- Exec. Director, NCWC Secretariat; Commissioner Manuelito Luna, PACC; and Hon. Macnell M. Lusotan, MARINO Partylist. PHOTO BY WILMAR ALMERIA

Among the many provisions of NMP includes the allocation of public investments for the development of ports and other coastal infrastructures, procurement of maritime safety and security systems to save lives and properties at sea and prevent maritime accidents, establishing a community-based marine and coastal management systems, and formulation of the "Bantay Dagat Bill."

The recommendations were presented and submitted by maritime luminaries, spearheaded by Movement for Maritime Philippines (MMP) Chairman Merle Jimenez-San Pedro.

MMP consists of maritime stakeholders from diverse sectors to include shipping, shipbuilding, manning, education and training, labor unions, marine scientists and environmentalists, and other non-government organizations.

Medialdea, who also sits as the chairman of the National Coast Watch Council (NCWC), acknowledged the Summit to be the "widest representation of maritime stakeholders ever to be assembled under one roof" to initiate dialogues for the industry.

"An updated marine policy would be a giant towards the fulfillment of our President's promise – to develop a national maritime agenda for inclusive economic progress. Such policy will be a useful road map for all of us but more than that, it will be a running point as one maritime community," he said.

Meanwhile National Security Adviser Hermogenes Esperon Jr. revealed the government's plan to put up a national research academic fleet to achieve a "robust and strengthened" marine scientific research in the country.

Esperon said this should establish data for the sustainable exploitation and use of the country's marine resources.

DND, PCG ready to protect PH waters

Defense Secretary Delfin Lorenzana said that the country's security sector would "always be ready" to protect the maritime industry from any threats, as he stressed that the administration's resolve to promote economic development and protect the natural resources in the Philippine waters.

"The Department of National Defense earnestly supports our maritime industry by ensuring maritime security and by contributing to an environment that is conducive [to] trade and commerce [growth]," Lorenzana said, based on the statement read by DND Undersecretary Arnel Duco.

Lorenzana also added the DND is "fully supportive" of the Maritime Industry Development Plan (MIDP) 2019 to 2028, which he deemed as the "first-ever comprehensive plan that aims to chart the future of our maritime industry."

"With MIDP, various government agencies such as the Philippine Coast Guard (PCG), the Philippine National Police (PNP), the Bureau of Fisheries and Aquatic Resources (BFAR), and the Armed Forces of the Philippines (AFP), with the Philippine Navy, address maritime terrorism, piracy, armed robbery at sea, transnational crimes, illegal fishing, and marine environmental degradation," the Defense chief said.

While the PCG, thru its representative, PCG deputy commandant for operations Vice Admiral Leopoldo Laroya, said the "complex problem" of security risks in the Philippine waters will not cease unless the government can address its "roots and causes."

He noted the illegal gas exploitation and unregulated fishing in the Philippine Rise, the reclamation activities of China in the disputed West Philippine Sea, and the maritime terrorism, kidnapping, human trafficking and smuggling of goods in southwest Mindanao.

Laroya, nevertheless, ensured that the PCG would exhaust all means to pursue a "safe, clean and secure maritime environment, by means of "sustained vigilance and strict monitoring efforts."

https:// www.manilatimes.net/2019/ 11/06/business/ maritime-business/ new-policy-binds-government -private-sector-to-boost-m aritime-industry/653834/ ?fbclid=IwAR0S7d_FwZOzHUjBE 2IpQ-_4n4dGFw8M7jpHbcOzeFN rmcT_138TGDKu_kk
MPCF-LC and WIMAPHIL President Merle Jimenez-San Pedro, Champion of "She"-Farers and Women in Maritime
"Bringing "She" to sea, with Her numerous accomplishments as a leader, ignited a tremendous source of positivity and inspiration in and around her organization" - Manila Times, May 1, 2019 issued.
https://issuu.com/manilatimes/docs/01manilatimes_f519033a3fb232/16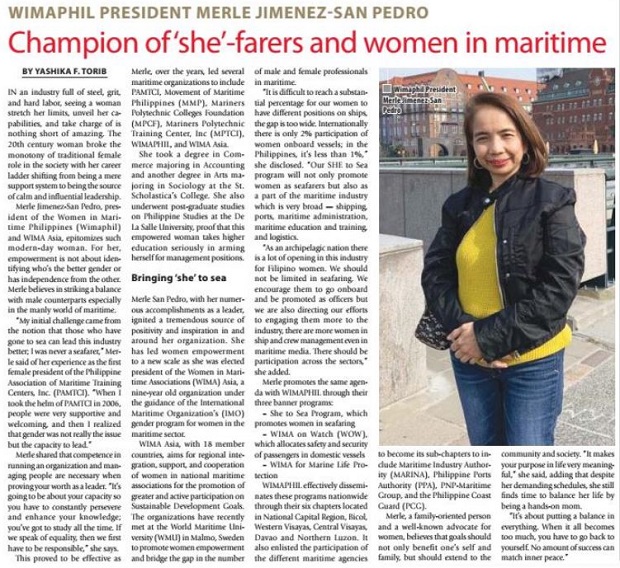 School, WIMA Bicol join celebration of International Women's Day
The Mariners Polytechnic Colleges Foundation (MPCF) this city, and the Bicol Chapter of Women in Maritime Philippines  (WIMAPHIL) joined the International Maritime Organization (IMO) in the celebration of International Women's Day on March 8 and 9, 2019  with activities held at  the SM City of Legazpi.

(Upper left picture) WIMA Philippines President Merle Jimenez-San Pedro addresses the audience at the opening rites of the International Women's Day event at SM City Legazpi. (Lower Left picture) MPCF representatives led by Registrar Norma Villanueva (4th from right) and WIMA Bicol coordinator Ms. Lydia Cervantes (6th from left) pose for a souvenir photo with one of the forum speakers and representatives of SM City Legazpi. (Right picture) A representative of Banco de Oro gives a lecture on Financial Management before women and coeds.

(Left picture) More action goes-on at the Women's Day Celebration as the resource speaker hammers on 'brick making', an environment-friendly livelihood opportunity.  (Right picture) One of the artworks of children from the group 'Kurit Aki Bikol', of Tabang Bikol Movement which was exhibited at the venue of the event.
The event adopted the theme 'Empowering Women in the Maritime Community' for the commemoration of World Maritime Day for the year 2019. This provided an opportunity in raising awareness of the importance of gender equality, and it highlighted the important contribution of women all over the world to the maritime sector.
Locally, WIMA-Bicol has adopted the theme 'Kusog Kababaihan sa Pangataman kan Kapalibutan' which is timely and relevant as it is centered on the role of women and their contributions  towards caring  of the environment & strengthening the community, advancing gender equality and empowerment of women.
 
With MPCF-Legazpi President Merle Jimenez-San Pedro, who is also President of Women in Maritime – Philippines (WIMAPhil) and concurrent head of  the Governing  Council of Women in Maritime – Asia (WIMAsia),  the local chapter has organized a two-day event which is the first regional activity to be held at the SM City mall in Legazpi City.  
The affair was organized by Mariners Polytechnic Colleges Foundation - Legazpi , Albay and  Canaman, Camarines Sur in cooperation with Tabang Bikol Movement  and partner government agencies promoting  Gender & Development such as MARINA,  PPA, BFAR, DENR, CHEd, DEPEd, DTI, DOLE, DA, DSWD, Philippine Coast Guard, Philippine National Police, Maritime Police, Commission on Human Rights, Legazpi Women's Federation,   Tabang Bikol Movement, "Kurit Aki", and the City  Government of Legazpi. 
City Mayor Noel  Rosal graced the Opening Programme.  Other partners  include the Archipelago Philippine  Ferries Corporation. 
Among the activities conducted include a parade around the city, talks on the rights and protection of women, reforms  in maritime industry through legislation, financial management seminar, and mental health awareness.  There were interactive help booths of government agencies, culinary and flair tending exhibition and the entertainment numbers presented as Tribute to Women and Mothers. These extravaganza show was rendered by MPCF students and by the school's Band & Majorettes. 
As the International Women's Day was celebrated, the fact remains that the maritime industry is dominated by men, which is why the term "seaman" is widely used to describe anyone working at sea.  But since the United Nations (UN) started promoting gender equality, women have been taking part in industries that once belonged to men, the maritime industry included.  In our country today, barely 1% belong to women who join the seafaring industry and  are being encouraged to join it, seeing that they have the same potentials  and skills as men.
The International Maritime Organization believes that women are very important spring of human resources, which would make for safer sea travel . It would do well for the shipping industry to seriously consider this new wellspring of quality manpower and provide for more measures to protect them.
"Considering the archipelagic nature of the Philippines and Bikol's vulnerability to disasters,  bringing both government and  private sectors together during Women's Day  is a strategically  significant  move  to consolidate  women's efforts in Bikol towards promoting and empowering  women  for  community building and protection of the environment, " emphasized  WIMA President San Pedro.  
One of the highlights of the event was the eco brick making Seminar (#BawalAngPlastik), a project launched with Global Alliance  and the LGU's which contributed to the campaign for the  protection of the environment.
MPCF-LC President gets PAMI's nod; retains positions as association's Board Member  & Secretary General
Davao City – The Philippine Association of Maritime Institutions (PAMI) held its 44th annual National Convention in Davao City in the third week of February 2019. Delegates from different maritime institutions from all over the country including Mariners Polytechnic Colleges Foundation (MPCF) in Legazpi City, Albay led by President Merle Jimenez-San Pedro attended the event.

(Left picture) MPCF-Legazpi President Merle Jimenez-San Pedro addresses the assembly in her capacity as PAMI's Secretary-General at the 44th annual National Convention held in Davao City.  (Right picture) The delegates with the school's VP for Academic Affairs Dr. Milagros Esparrago (3rd from right) as they listen to the message being conveyed.

Some officers of the association while at dinner after the Board Meeting attended by its new members. In the picture with President Merle San Pedro are PAMI officers Chief Engineer Havoc , Atty. Pimentel and the members of Team MPCF-Legazpi.
In the conference, President San Pedro, in her capacity as Member of the Board of Trustees and Secretary-General of the association was retained to the same posts after an election was conducted. Department of Transportation Secretary Arthur Tugade was represented by Undersecretary Paul Yebra who delivered the convention's Keynote Address.
Aside from the Mariners Legazpi delegates, colleagues from MPCF-Canaman, Camarines Sur also attended the event.
The Philippine Association of Maritime Institutions (PAMI) is an organization composed mostly  of schools from Higher Maritime Education Institutions (HMEI) which maintain a close watch on what goes-on in this sector of the maritime industry.  It maintains a liaison with the Department of Transportation (DOTr), the Maritime Industry Authority (MARINA) and other concerned government agencies to safeguard the welfare and continuous development of this sector so it can serve its clientele well, especially in the field of maritime education.
Mariners Legazpi joins G.A.I.N. convention; observes role of academe in shaping students for jobs of the future
The Mariners Polytechnic Colleges Foundation (MPCF) in Legazpi City, Albay sent a delegation to the 2nd  National Convention of the Government Academe Industry Network (GAIN), in a one-day forum which focused on the subject 'The 4th Industrial Revolution: Preparing the Philippines for the Jobs of the Future'.  Led by school President Madame Merle Jimenez-San Pedro, she was joined by VP for Academic Affairs Dr. Milagros Esparago and Office for Research and Extension Director Ms. Genevieve Marcelo-Sy. The gathering was held at the Dusit Thani Hotelin Makati, Metro Manila on February 8, 2019. 


MPCF-Legazpi sent school officials as representatives to the 2nd  National Convention of the Government Academe Industry Network (GAIN).  (Left to right) President Merle Jimenez-San Pedro, VP for Academic Affairs Dr. Milagros Esparago and Office of Research and Extension Services (ORES) Director Ms. Genevieve Marcelo-Sy.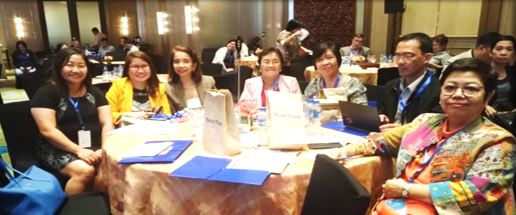 The convention participants take a break during the hectic forum schedule. With the MPCF-Legazpi delegates are colleagues from sister school, the Mariners Polytechnic Colleges Foundation in Canaman, Camarines Sur.
Recognizing the key role of Filipino workers in achieving the priorities of the Philippine Government to accelerate human capital development, increase growth potential, and create an enabling and supportive economic environment, the Government-Academy-Industry Network (GAIN),  in collaboration with stakeholders from the government, academe and industry, has organized the 2nd GAIN National Convention.
The presence of MPCF school officials underscores the importance of doing observation on possible innovations which can be implemented in the academic activities of the institution so it can adequately prepare students in their formative years for jobs in the future.  The fast pace in the advance in technology dictates a paradigm shift on how jobs should be handled in the coming years.
The one-day conference also discussed in detail how the government, academe, and industry can work together in order to secure and strengthen our country's global workforce. With Artificial Intelligence (AI) and technology continuously reshaping the world of business and education, the forum pushes for the country's leaders to initiate proper steps to be able to stay current on the latest digital trends on Artificial Intelligence, Machine Learning, and most importantly, understanding how it can affect future jobs of Filipinos.  Over 500 Representatives from Government, Academe, and Industry Sector participated in this event.
The convention adopted the following objectives:
Pave the path to identify and address workforce issues that can only be resolved through the collaboration of the government, academe and the industry
Allow participation to provide input towards the formulation of national policies that will impact the country's workforce
Act as a partner in ensuring global competitiveness of our Philippine graduates and workforces by establishing international standards in English communication, technology, and subsequently across professional disciplines, such as Engineering, Hospitality, Accountancy, etc.
Generate support from government-academe-industry to adopt global English standards such as CEFR Framework used in 81 countries, aspire for at least a B2 (lowest is A1, highest is C2) leading to enhanced curricula, instruction and more effective talent management programs
Create an awareness of the country's level of English proficiency and halt its further decline to protect the global competitiveness of Filipinos
Inspire the enhancement of the organizational standards, human capital practices, and key performance indicators aligned with global benchmarks
Prepare participants for a fast-changing world demographic and the rapid need for evaluation to stay competitive and relevant during the age of disruption and innovation
Before the convention ended, the delegates have agreed on the following points: 
RECOGNIZE the need for both Digital Proficiency and English proficiency as pre-requisites to being globally competitive for the 4th industrial revolution;
ESTABLISH digital literacy standards for students and support a general Common European Framework of Reference English standard (CEFR B2) for the Jobs of the Future;
For Government to adopt the National English Proficiency Roadmap 2018-2023 for Global Competitiveness, including the Common European Framework of Reference for Languages;
RECOMMEND the creation of a unified national agency under the PQF-NCC as provided for in Republic Act 10968 to plan, implement and evaluate the Philippine Qualifications Framework.
The participation of the members of the school delegation underscores the institution's thrust to be competitive, attuned to the needs of the changing times and its conformity with global standard especially when it comes to sustaining quality education which the students need and deserve.
School conducts Seamanship Enhancement Skills Training; hones maritime cadets on enrichment of work  expertise
The Mariners Polytechnic Colleges Foundation (MPCF) in Legazpi City, Albay  organized a three-day Seamanship Enhancement Skills Training which centered onhull machinery maintenance training,focussing on Bosun's Chair and Painter Stage Operations. This activity is in line with with the concept of Value Added Trainings (VAT) introduced to the institution by the school President Merle Jimenez-San Pedro.

The participants in the three-day 'Seamanship Enhancement Skills Training'  go to action doing  actual work at the Landship in the school's annex campus (with the Albay Gulf at the background).

Aside from sharpening the on-the-job skills of the participants, safety measures while at work are given equal importance at the training which conform with the princiles of safety at sea.

Some participants pose for posterity after the debriefing period on the last day of the activity with Trainer Capt. Josue P. Nuda (center in over-all white suit) and the school Registrar & MTI Director Ms. Norma Villanueva (in white shirt). (Right picture) Capt Nuyda conducts a lecture before the participants go to actual work.
Attended by maritime instructors and cadets, this allowed them to further prepare themselves to sharpen their skills in the conduct of their mandated responsibilities as Seafarers. 
The training was held from February 16 to 18, 2019 at the MPCF-Legazpi Training Site, annex campus and was led by Capt. Josue P. Nuda as trainer.
Aside from the enhancement of skills, among the topics given importance was the safety aspect in the workplace. This includes awareness of hazards in line with the principles of safety at sea such as wearing of protective gears while at work.
"Activities of this kind will put our graduates in a higher level of employability and being competitive after they leave the portals of the school", said President Merle Jimenez-San Pedro.